Past Programs and Events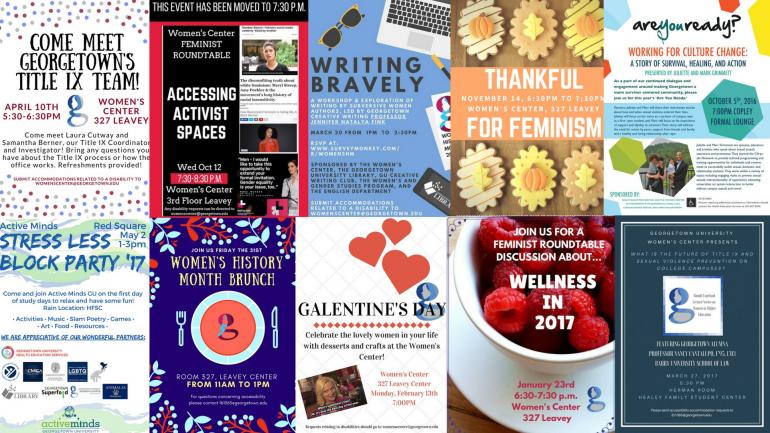 Flyers from the 2016-2017 year of programming from the Women's Center
The Women's Center has a rich legacy of 30 years of advocacy, programming, and leadership. Here are some events and activities from previous years:
Fall Semester
Open House
Open House Reception to welcome new and returning students at the begining of each fall semester. Like us on Facebook to stay updated!
Are You Ready
Are You Ready? Are You Ready is a campus wide sponsored program to raise awareness about sexual assault and assist community members in helping friends and family members. The annual Are You Ready? program typically takes place in February If you are interested in joining Are You Ready? or becoming a member of the Sexual Assault Peer Educators please email womenscenter@georgetown.edu or visit Health Education Service's website.
October Awareness Campaigns
October is Domestic and Intimate Partner Violence Awareness Month. The Women's Center supports a variety of campus initiatives in recognition of the month, including Georgetown student group Take Back the Night's awareness week around dating and intimate partner violence. For more information, email gutakebackthenight@gmail.com. The GU Women's Center also hosts a Feminist Roundtable on the topic of intimate partner violence during October.
The GU Women's Center cosponsors many of the GU LGBTQ Center's OUTober programs throughout October and November. For more information, please visit the LGBTQ Center's Education and Outreach page.
Feminist Roundtables
Interested in chatting about feminism, sexism, and the latest topics that impact the lives of women and our community? Stop by a Feminist Roundtable for discussion and dialogue. Topics and event information will be posted on our Facebook page. Like us on Facebook to get the latest details!
VOICES Retreat
Our retreat is focused on leadership, gender and social justice while creating space for participants to explore identity and intersections that impact their daily lives and work at Georgetown University. We are building community across difference. For more information, please visit the VOICES Retreat page.
Spring Semester
Community in Diversity & Dr. Martin Luther King Jr Day
Every year the campus community comes together to celebrate community in diversity with events and programs that honor the work and life of Dr. Martin Luther King Jr.
Women's History Month
Every March, the Women's Center engages the Georgetown community in a series of events focused on Women's History Month and gender equity issues. The GU Women's Center provides a Women's History Month calendar highlighting events happening all over campus. Events include speakers, workshops, and donation drives. Visit our Women's History Month page to learn more about past programs and events, or email womenscenter@georgetown.edu to add your event to our calendar or to get involved.
Sexual Assault Awareness Month (SAAM)
April is Sexual Assault Awareness Month. Stay tuned for details about the week and other SAAM events.
---